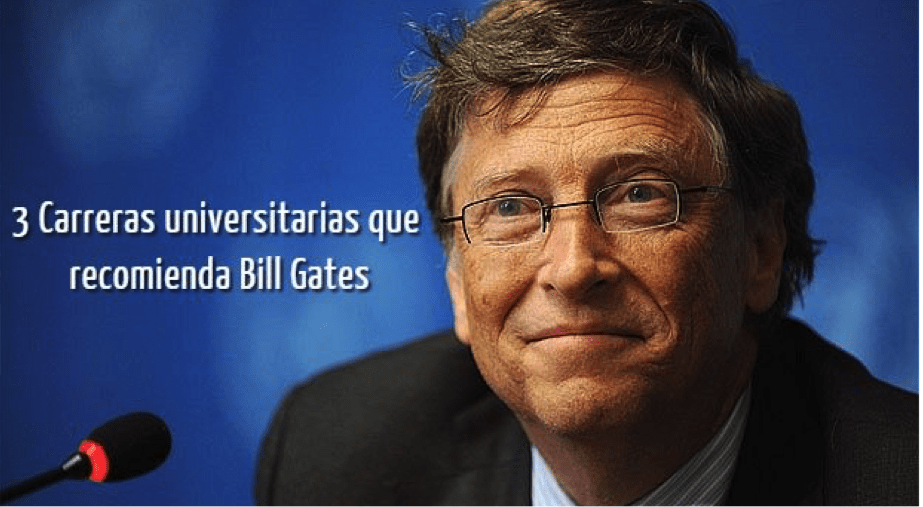 In this post you will find 3 races that the billionaire creator of Microsoft, Bill Gates recommends young people of nowadays. ENTERS!
WE START:
Today a university degree is no longer a problem to achieve great achievements in the journey of life. In some parts of the world, having a university degree does not make you better or worse than others, nor does it ensure better success as a professional.
Experts say that the important thing today is to find people with talents, skills and experiences. For example, in Silicon Valley it is more important a person who has skills or some experience as a software developer, just a university degree cannot represent it.
Regarding the above we know that we all do not think the same and perhaps as a high school student right now you are going through the bad situation of not knowing what to study at university. If this is your case, you are 3 college majors Bill Gates recommends I think they will be very helpful to you.
In a letter written for the "Class of 2017" Mr. Gates mentions the 3 College majors he would study if he were Young. Many of us would think that programming or systems engineering might be the kind of advice given by the billionaire. However, the recommendations are aimed at climate change, fighting poverty, among others.
Here are the 3 races that Mr. Gates recommends:
For Mr. Bill Gates the careers with the most sense and focus on the future are artificial intelligence, energy and life sciences. For her iintelligence artificial It will help people's lives to be more creative, fun and productive.
Regarding the issue of andenergy, comments that by making it cleaner, more reliable and accessible to all, poverty rates will decrease and climate changes will not continue to be affected. For them cbiological sciences they are college career filled with opportunities to help people live longer, healthier lives.
He also mentions that the worldview center for him does not revolve around a university degree, in his 30s after a trip to Africa he understood that the important thing is to focus with the knowledge that we have on growing as people, and then help others.
When you think about helping others, money comes in addition. But what is relevant about all this is that when we act in the right way we begin to see the world in a totally different way.
Doubts questions?
I hope I have helped you and I hope you are done with the post. If you don't understand something, contact our team using the floating chat (located in the lower right part of your screen) to leave us your question.
You can see our most recent posts on our page start from the blog. Like us on our Facebook page so you don't miss any news.
GOOD MORNING AND GREETINGS FROM OUR TEAM!