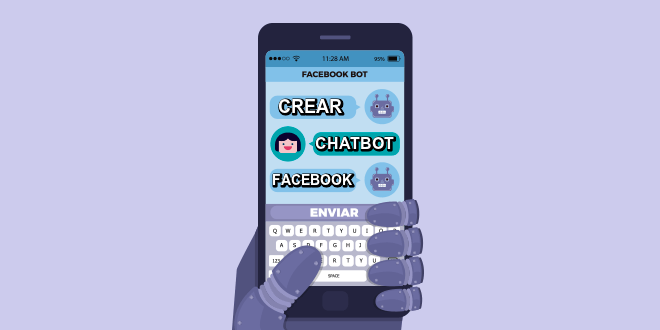 In this post you will learn how create step by step a bot software for Facebook for free, or better known as chatbot for Messenger. ENTERS!
WE START:
Welcome.
We have interesting information if you are looking to learn how to design Bots for Facebook Messenger.
We are facing an era where the most practical, satisfactory and what brings us the lowest cost, has been the most attractive option in the business and commercial field, specifically in the marketing area.
With this we give rise to begin to deal with important concepts that we must know. 
What is a bot for Facebook Messenger?
The bot has been an element of automated messaging software. In other words, this means that the bot works through artificial intelligence in order to interact with users.
These are programmed to carry out a Customer Service, are exclusively designed to understand and provide the answers that the interested parties wish to obtain in a systematic way, in addition to facilitating the execution of possible solutions to their needs.
The interaction that takes place between the client and the company takes place on the portal Facebook Messenger, one of the best known and most used tools worldwide in the field of social networks.
How to create a Facebook Messenger bot?
On the web you will find a variety of tools to create facebook bot, among these we will mention: Streamchat, Chatfuel, MobileMonkey, ManyChat, Botsify.
The latter does not need coding programming and is the one that we will use below to mention some of its instructions for creating a bot.
With the Botsify platform you can create a bot To connect it with your Facebook messenger, as a fundamental requirement you must have an active account on the Facebook platform and register as a developer of this page, then follow these simple steps:
Create an app on Facebook.

Design the configuration of the app.

With Botsify connect your app.

Make the configuration of your bot.

Test your bot.
In this video, you will find the step by step to be able create for free and easy a software bot for Facebook Messenger, through the step by step of each instruction just mentioned.
Purpose of use 
We must know that the bot is considered a software or computer program designed so that the system willfully interact with third parties, on behalf of a trademark, organization or company.
Bots have become a key piece for the field of digital marketing, since it offers beneficial and profitable alternatives both operationally and economically to commercial entities.
The bot is a smart software, since it manages to establish an interaction between the client and the service provider, being able to communicate, respond and even execute tasks.
Benefits of a Facebook Chatbot
Creating an instant messaging bot for Facebook can be too attractive an option for a business or company.
As its name indicates Chatbot It is a chat, a communication channel between two or more users in real time, where feedback, an exchange, a feedback must be given. The term bot is coined because the announcer turns out to be a programmed system.
Know some benefits what does he give you facebbok chatbot, when applying digital marketing techniques to promote or strengthen an entity or commercial brand:
Provides customer or user support directly and simultaneously.

Through Messenger Facebook, you can make use of personalized messages to generate traffic and visit your official page, virtual store, app, among other online channels.

It allows segmenting user input in a short time, as well as classifying potential customers in a list.

It contributes to boost sales.

There is the possibility of providing 24/7 customer support by merging the chatbot with Facebook Ads.
Platforms to create a free Facebook chatbot
On the web you will find a range of platforms for create a chatbot for Facebook free so you can strengthen your commercial projects at a lower cost.
We will mention two platforms that you can use for free, however some conditions apply:
Chatfuel:

 It is a free platform until reaching the amount of 100k conversations per month, after this it becomes a Premium client which generates a payment.

Botsify:

 For a single membership the service is free, if you spend this amount for the same account, it must be canceled.
---
This is where our post goes. Hopefully you put this content into practice and can create a free bot software of Facebook for your company or business. We invite you to read the following contents:
Do you find it useful to create a bot for Facebook Messenger? Tell us in the comments.
Thanks for choosing us. Until a next post.