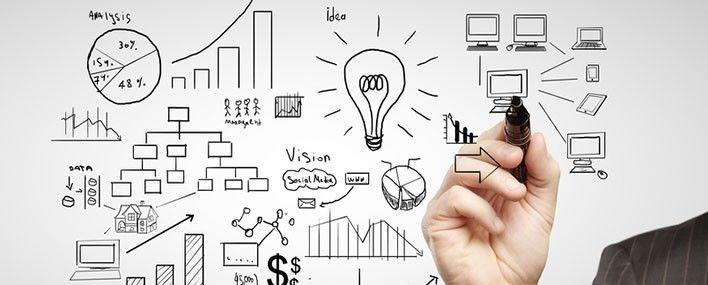 In this post we will show you more than 270 free courses for entrepreneurs and business administrators. ENTER, IT'S A TREASURE!
WE START:
We all know that taking an idea and turning it into a successful business is not easy. For this it is also important to work hard, to have an excellent team of entrepreneurs where they are not only friends or a team, but more than that a family. Unlike 20 years ago, today the chances of your business being successful does not depend so much on the money you invest in it, rather on the team of people that make it up, and how much desire they have to make that idea successful.
If your aspirations lead you to create your own company and you don't know how to start, what to do, how to invest the money you have, you have no idea how to run a business, so this is the opportunity for you to train yourself with this list of More than 270 free online courses for Entrepreneurs and Business Administrators and take that business idea to total success.
most of courses are totally freeSome are offered by recognized and very important universities in the world. This important collection of free courses highlights topics on: entrepreneurship, innovation, motivation, marketing, leadership, administration, accounting, finance, management, technology and more. As you can see, there are courses for all tastes and for any entrepreneur, so don't miss the opportunity to take advantage of this material.
Another important fact is that some courses give us a certificate, which will have a lot of value and weight for our resume, however remember that what is important and that is more valuable today is the knowledge that you possess. To access this great material you only need a computer, pc, cell phone and internet connection.
All the courses are not in a single educational platform, so to access the first list of courses you can do it from the following link: More than 97 free virtual courses for entrepreneurs. The second list of courses can be seen from the following link: 40 free online courses to learn about entrepreneurship, marketing and finance. All this educational material was compiled thanks to the collaboration of my friends from Business and Entrepreneurship.
IMPORTANT NOTE: the courses that do not have a link, it is because their link has expired and is no longer available.
List of 43 virtual courses on Leadership, Management and Business Administration.
#1) Introductory course to business management
#2) Negotiation course for entrepreneurs
#3) Higher Program in Business Management and Administration
#4) Business Finance Course
#5) Administrative Assistant Course
#6) Quality Control Course
#7) Business Administration didactic course
#8) Strategic Planning Course
#9) Leadership training
#10) Free course on Six Sigma
#11) Logical framework approach
#12) How to run successful meetings
#13) Course of Development and evolution of a leader
#14) Course in Administration of the finances of a church
#15) The change in organizations
#16) Business Administration Course
#17) Advertising course adapted to the company
#18) How to manage troubled groups and lead leaders
#19) Basic Accounting Course
#20) Intermediate Accounting Course
#21 Cost Accounting Course
#22) Depreciation and Amortization Course. Accounting and tax treatment
#23) Course How to be a leader
#24) Introduction to leadership course
#25) The eternal apprentice boss
#26) Winery Management Course
#27) Accounting Course: Memorandum Accounts
#28) Introduction to the profession of Customs Broker
#29) Business Mathematics Course
#30) Heliciculture Course
#31) Investment Project Formulation Course
#32) Emotional Intelligence and Coaching Course
#33) Learning Assessment
#34) Decision support system
#35) Balance Sheet Analysis Course for Investors
#36) Financial Analysis Course
#37) Quality Management Course
#38) Strategy of simplicity and the Nature Trail
#39) Business Management Course, for SMEs
#40) Simulation games based on reality, organizational development tool
#41) Business Strategy Course: A Path to Simplicity Strategy
#42) From slave to owner of his company
#43) Course on How to set up a "Homemade Industrial micro-enterprise"
100 Free Online Courses for Entrepreneurs and Business Administrators.
Marketing Courses:
#25) Digital Marketing Course (IAB Spain and Google)
#26) How to maximize high impact areas at the point of sale? (BiiA Lab)
#27) Know how to sell the brand to the unconscious (BiiA Lab)
#28) Revolutionize your gastronomic business by creating unique experiences (BiiA Lab)
#29) Presentology: How to Create Successful Presentations (Cash Trainers)
#31) How to speak in public (Easy classroom)
#32) Public Speaking Techniques (Coursepedia)
#33) Market Analysis Course (Aulatutorial)
#34) Introduction to SEO (Coursepedia)
#35) SEM and SEO web positioning (Coursepedia)
#36) How to create professional videos (Coursepedia)
#37) Create your Digital Marketing Plan in 6 Steps (Coursepedia)
#38) Personal brand (Coursepedia)
#39) Digital Marketing to Grow Your Business (Tutellus)
#40) How to use Youtube to Get New Clients (Floqq)
#41) What is Neuro Marketing? (Floqq)
#42) Marketing and Business Protocol (Floqq)
#43) How to make the product strategy (Floqq)
#44) How to sell more and better (Floqq)
Innovation Courses:
#45) Sustainable Consumption and Money Management (AISO)
#46) Generation of Business Ideas (UNIMOOC)
#47) The principle of the three brains to innovate (BiiA Lab)
#48) What are the best tools to innovate? (BiiA Lab)
#49) What does innovation in a product or innovation in your life have in common? (BiiA Lab)
#50) Innovative strategies for your company (BiiA Lab)
#51) Design Thinking - creating innovative projects (BA Emprende Academy)
#52) Innovation and creativity for entrepreneurs (BA Emprende Academy)
#53) Development of innovative ideas for new companies (University of Maryland)
#54) Rapid development of innovative products for emerging markets (Tecnológico de Monterrey)
Management Courses:
#55) Keys to Business Management (Infoautonomous)
#56) Legislation for Entrepreneurs (UNIMOOC)
#57) How to create a valuable employer brand (BiiA Lab)
#58) Endomarketing: build your brand in the hearts of employees (BiiA Lab)
#59) How to manage human talent in transcendent organizations? (BiiA Lab)
#60) Organizational Structures Course (Aulatutorial)
#61) Course in commercial negotiation (Aulatutorial)
#62) Introduction to Business Intelligence (Myriad X)
#63) Management Control of a Company (They undertake)
#64) Organizational Psychology in Business (They undertake)
#65) Human Resources Management Course (Fullness)
#66) Techniques to Motivate and Persuade Your Work Team (They undertake)
#67) Occupational Health Course (Fullness)
#68) Personnel Selection Course (Fullness)
#69) Course of Analysis and Description of Positions (Fullness)
#70) How to maintain a stable work environment (Fullness)
#71) Directive Intelligence (Floqq)
#72) Small Business Management Skills (Floqq)
#73) Scrum. Agile methods for project management (Floqq)
Accounting and Finance courses:
#74) Financial Training for Mortals (UNIMOOC)
#75) Money: Friend or foe? (BiiA Lab)
#76) Practical Accounting Course (Coursepedia)
#77) Direct Marketing: When Roaches Rule the Earth (Tutellus)
#78) Introduction to finance (University of Michigan)
#79) Finance course for entrepreneurs or not ...: Guide to interpret and get the best out of 80 your Financial Statements (Fullness)
#80) Basic financial concepts (Coursepedia)
#81) Excel for Accountants (Coursepedia)
#82) Basic Accounting Techniques (They undertake)
#83) Financial and Accounting Management (They undertake)
#84) Free Basic Stock Market Course (Floqq)
385) Introduction to Stock Market Technical Analysis (Coursepedia)
#86) Cyclical Analysis of the Stock Market Course (Fullness)
#87) Financial Accounting from scratch (Floqq)
Technology courses and digital tools:
#88) Course on Personal Productivity in the Online Digital Era (Fundación Santa María La Real and Google)
89) App Development Course (UCM and Google)
#90) Data Analytics Course (EOI and Google)
#91) Electronic Commerce Course (EOI and Google)
#92) Electronic Commerce for Entrepreneurs (UNIMOOC)
#93) Cloud Computing Course (EOI and Google)
#94); Introductory Course to Web Development: HTML and CSS (University of Alicante and Google)
#95) Future Sectors (UNIMOOC)
#96) Technology Watch to undertake (UNIMOOC)
#97) Work safely in the digital economy (UNIMOOC)
#98) Strategic sectors in digital key (UNIMOOC)
#99) Introduction to the Digital Economy (UNIMOOC)
#100) Diginomics: The Impact of Technology on Business (Myriad X)
I hope it is very helpful for everyone, if you know educational material similar to the one we share here with you, do not hesitate to mention it in the comments. Successes and Blessings.
Doubts questions?
I hope I have helped you and I hope you are done with the post. If you don't understand something, contact our team using the floating chat (located in the lower right part of your screen) to leave us your question.
You can see our most recent posts on our page start from the blog. Like us on our Facebook page so you don't miss any news.
GOOD MORNING AND GREETINGS FROM OUR TEAM!