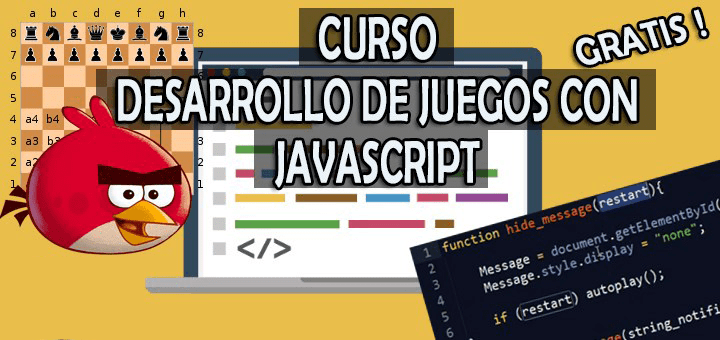 In this post you will find an excellent course to learn how to create a video game in JavaScript, that is: create a video game for the web. ENTERS!
WE START:
Welcome to another post.
Today the world of internet and websites is more advanced than ever! Of course: we are in the 21st century.
I will ask you a question: what do you do when you are bored? Don't you go to play a video game on the internet?
Perhaps many of you know this gaming portal. Do you know how to create a video game of that style?
Now I want to ask you this question: wouldn't you like to learn how to create a video game that way and share them with everyone?
If your answer is yes, then you are in the right place!
COURSE: How to create a video game in JavaScript
You will learn the core of web gaming: JavaScript. Thanks to this programming language, you will learn from scratch the design, creation and maintenance of a video game.
But before getting into the subject, let's at least see what this programming language is:
What is JavaScript?
JavaScript is the language that runs on the web: it is responsible for making the webs more dynamic, that is, it controls the flow of the site.
Thanks to it, you can do everything you can think of with a website, you can create not only video games, but anything that is web-oriented.
With this language you can give design, animation and operation to a video game oriented for web pages, in itself: how to create a video game in JavaScript.
General details of the course
Stopwatch management.
Manage the graphical environment of the game.
Randomness in video games.
Do contour of movements.
Manage bonus movements.
Create Game Bonus.
Difficulty creation: levels.
Pop-up window messages.
Create message timer.
Dynamic and personalized Twitter buttons.
What will you get with this course?
You can access the course whenever you want, wherever you want and forever.
You will get assistance from the teacher who teaches the course.
You can access the 27 videos of the course.
You will have support material to guide you.
AND BEST OF ALL: You will earn a certificate upon passing this course.
Go to the course to create a video game in JavaScript
Here below I leave you this course to learn how to create a video game in JavaScript. Click the blue button:
Go to the course NOWGo to the game creation course
---
Before finishing this post, I would like to tell you that in this blog you will find courses of all kinds: gaming, programming, marketing, etc ... Visit us!
Likewise, we are passionate about talking about Gaming in general: tricks, top games, games for Mac, Windows, etc ... We will surely understand each other very well!
How about this course to learn how to create a video game in JavaScript? Leave us your comment below!
See you in another article.