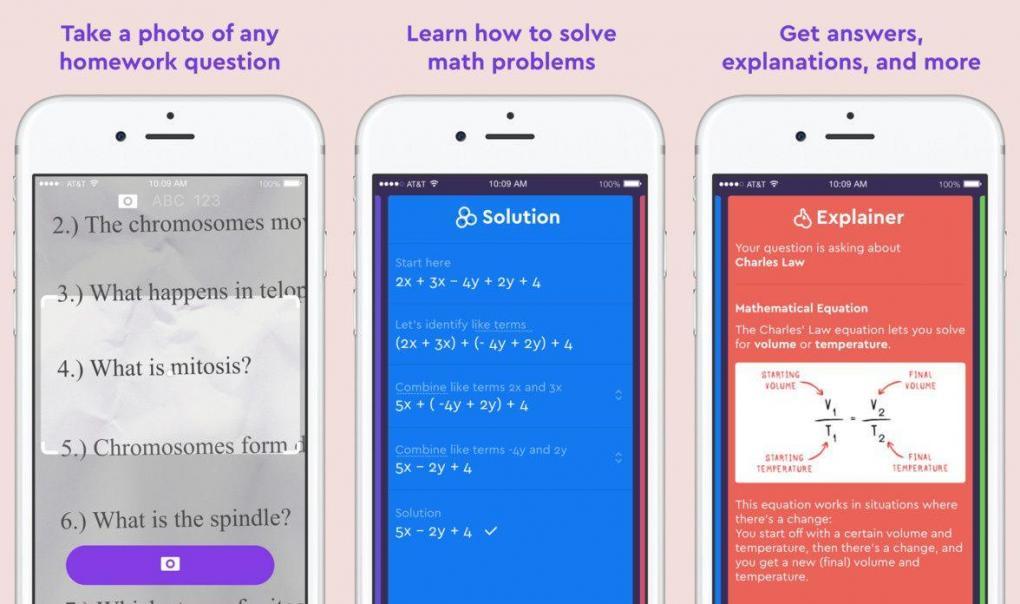 In this post you will find Socratic, the tool that you are going to love, because it will help you with your homework of all kinds. It is for Android and iOS. ENTERS!
WE START:
Let those who enjoy doing their homework at school or institute raise their hands? Nobody? Well, now an application has come to give you a hand. His name is "Socratic" and he promises do your homework, and I mean to help you do it yourself.
The Internet is not exactly lacking resources to help you in your studies, and that is precisely the problem. With so much information saturation, sometimes you don't know where to look or what you can trust, because there is information that, instead of helping you, hurts you. Socratic tries to help you without many stories: you take a picture of your homework and you get help Instantly.
Take a picture of your homework:
It all starts with a photo. In fact, it is the first and only thing you see in the Socratic interface, which is simplified to the maximum, as in Snapchat ?. The idea is as simple as take a picture of the question you don't understand to get help instantly.
Socratic is in charge of doing the corresponding character recognition to obtain the question and obtain the context of it using artificial intelligence. He is officially prepared for all kinds of questions from math, science, history, English, and economics, but when in doubt ... take a picture.
When taking the photo you should try to make it as clear and at the smallest angle as possible. Keep in mind that the application needs to convert the text into words, so you don't want to make it more difficult than is strictly necessary: take a good photo, which is clear and does not look blurry.
After taking the photo, you must use the control in the middle of the screen to cut only the question what ails you. If you have a ten-question test before you, Do not be impatient: you must go question by question. Don't leave any word out of the box; make sure the question is complete and clear.
Get answers:
Press «Look for»And Socratic will start scouring the web for the answer you are looking for. If you're lucky - and the question was specific enough - Socratic will tell you the answer directly.
If you're not very lucky, Socratic can still help you. This is where artificial intelligence comes in to understand the context of what you are asking and offer you help resources so you can solve the problem yourself. For example, if you photograph a problem like "my cousin is twice my brother's age, who was half my age 4 years ago," Socratic provides explanations and videos on how to solve math age problems.
The quality of the answers depends a lot on the topic and the complexity. For example, a simple question of "what is mitosis" is easier to solve than a dissertation on the political climate that anticipated the First World War (obviously). Socrates shows you a series of pages with the different results it has found, the last being a simple google searchIdeal for when all else fails.
A good help:
In summary, it can be said that Socratic is a good help for our studies. He does quite well in our language and frequently is able to surprise you by throwing you the answer what were you looking for.
Of course, if you were thinking of doing all your tasks with a photo and machine, I am afraid that the day when your mobile does your homework by itself has not yet arrived. What you do have in Socratic is a good help that from time to time he gives you fish and the rest of the time he teaches you how to fish.
It is for all ages, it is free and you can download it from the following button for Android:
Download SocraticGo to Google Play to download
Download for Apple devices:
Download SocraticGo to iTunes to download
Doubts questions?
I hope I have helped you and I hope you are done with the post. If you don't understand something, contact our team using the floating chat (located in the lower right part of your screen) to leave us your question.
You can see our most recent posts on our page start from the blog. Like us on our Facebook page so you don't miss any news.
GOOD MORNING AND GREETINGS FROM OUR TEAM!