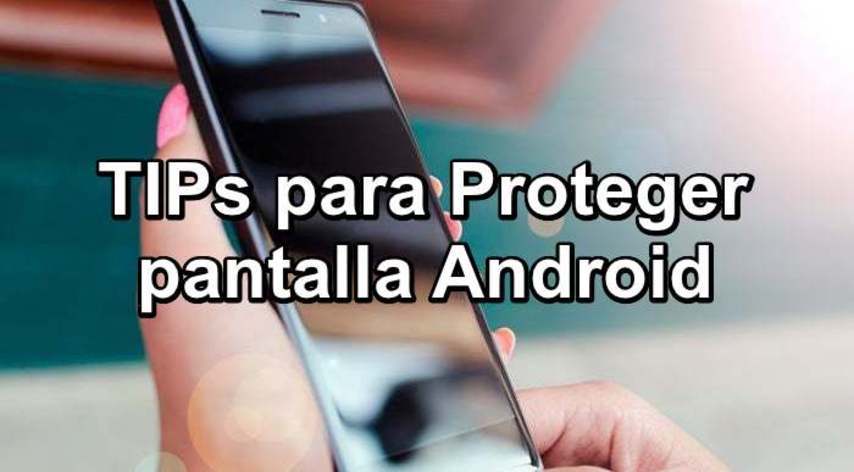 In this post we will teach you some useful tips so you can protect the screen of your precious Android cell phone and take care that it is not broken or damaged. ENTERS!
WE START:
The touchscreens of smartphones are designed to withstand scratches and they are quite sturdy for everyday use. However, that does not mean that you should not know some methods to protect the screen of your Android cell phone.
Next, we will introduce you 8 tips to keep your screen in good condition of your team to last you longer.
Learn how touchscreens work
To protect the screen of your Android or iPhone cell phone, it is crucial that you know how they work and what should you use to handle it. For most computers, you only need to use your fingertips to slide between applications.
However, there are other models (generally more expensive) that also allow the use of a stylus. Try not to use other objectsas you could damage the screen and end up scratching it.
Don't hit your cell phone when it stops working
Sometimes, when the cell phone is old or has little memory, it usually stops and does not recognize your fingers to function. Low no circumstances hit the screen or the back of the cell phone, since you will only damage your equipment.
While sometimes that little bump seems to work, we recommend not doing it. If the screen stops working, it is best to have it repaired or evaluated to determine what is wrong.
Avoid sunlight to protect the cell phone screen
While your smartphone screen will not be damaged in the sun, a prolonged exposure of the equipment UV rays could damage the sensitivity of the equipment. Therefore, never forget your cell phone in an area where the sun reaches it to avoid these problems with your screen.
Keep your cell phone away from electronically charged objects
The sudden flow of electricity between two devices it may interrupt operation for a long time. It is important that you never place your cell phone near an electrically charged device. A sudden increase in electrostatic charge can be detrimental to your Android screen.
Use the cell phone to protect the Android screen
Very few people take this advice into accountEspecially older people, who don't use their cell phones very often. Sometimes they lose them inside the house and don't remember where they left it.
A cell phone should not remain inactive for long periods of time. When the device remains inactive, internal burnout can occur. A lock-screen timeout that wakes up the screen after a period of inactivity might help.
Clean your cell phone screen carefully
Never use detergent or soap to clean the screen of your Android cell phone. It is best to use the cloth with which you clean your glasses in a gentle way. If you need any liquid, you should get one that is special for mobile devices.
Buy accessories to protect your Android cell phone screen
Most of the people are aware of the efficacy and necessity of screen protectors. These are relatively cheap and an excellent investment to keep your cell phone screen in good condition for a long time.
---
As you can see, they exist many ways to protect the screen of your Android cell phone and prevent possible damage. If you put the advice we have given you into practice, we are sure that your device will be in perfect condition.
Before concluding the post, mention that you may be interested in these following related articles:
Do you have an infallible method to protect the screen of your Android cell phone? Have you put any of our tips into practice?