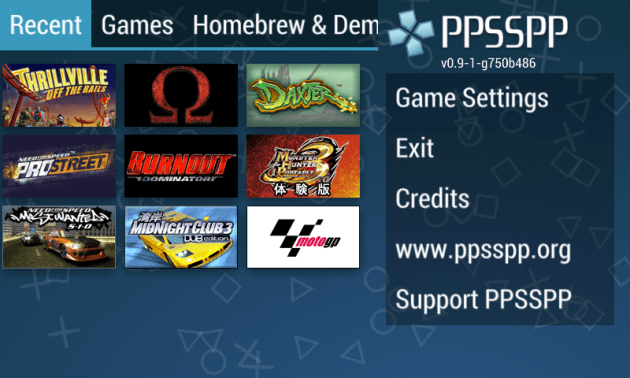 In this post you will find PPSSPP, a PSP emulator that you can install on your Android device and that will allow you to play those incredible PSP games. ENTERS!
WE START:
PSP has long been the portable console of our childhood, and well, I say that because for me it has been the best console I tried in my time, after the first Xbox. There were many interesting games that I enjoyed playing, among which was: Resistance Retribution, Worms, Midnight Club DUB Edition, etc ...
Time passed and the console went out of the market and I lost that appreciated portable device, I lost my PSP, it was a fat one, and my memory stuck duo anyway, I lost it. I thought I wasn't going to be able to play anymore, but I found this amazing emulator called PPSSPP, and I was able to relive that childhood. Well, I already told you my story, now, let's go to the tutorial !:
1. Download PPSSPP:
First of all, you should download PPSSPP by doing click this link, is an APK application, which you can install without problems if in the configuration of your mobile it admits to install applications from unknown sources.
After that, (and if your phone is low or medium range), we can give you the best settings so that the games go well, without lag:
2. Configure PPSSPP so that games do not slow you down:
Graphics section, section Rendering mode:
Open the emulator, then click on "Settings" or "Settings."
In graphics engine, it is OpenGL.
Mode: Rendering with Buffer.
Block transfer simulator (terminal): unchecked.
Graphics section, section Framerate control:
Frame jumping: Off.
Automatic frame jumping: unchecked.
Force max 70 FPS (speeds up God of War): marked.
Alternative speed (in %, 0 = unlimited): 75%.
Graphics section, section characteristics:
Post-processing shared: Off.
Screen area editor: in white.
Immersed mode: unchecked.
Graphics section, section performance:
Rendering resolution: PSP x2.
Screen resolution (scaled by HW): PSP x2.
Mymapping: marked.
Hardware Transformation: marked.
Software skinning: marked.
Cache with Vertices: marked.
Delayed texture cache (fast): marked.
Retain Combined Textures (Speed up but drown memory): marked.
Disable slower effects (fast): marked.
Bezier / Spline curve quality: Low.
Graphics section, section Texture scaling:
Scaling level: Off.
Scaling type: xBRZ.
Deposterized: unmarked.
Graphics section, section Texture filtering:
Anisotropic Filtering: Off.
Texture filter: linear.
Screen scaling filter: linear.
In all other sections of the Graphics section, we will leave the settings as they are. Now, we go to the following:
Audio section, section Audio:
Activate sound: marked.
Global volume: 10.
Latency: Low
System section, Emulation section (only configure what I will mention below):
Multithreading (experimental): unchecked.
I / O timing method: Host.
Snapshot reverse frequency: 75.
Change PSP CPU speed (note: if your processor is 1.4 GHz, the value will be 70, if it is less than 1.4 GHz, the value will be less): you could set it to 75.
READY! You just set it up. Now where can you download games from ?:
3. Start downloading your games in ISO PPSSPP format:
Go to the page of EmuParadise.com and look for your games.
Use the web search engine or filter the games by alphabet.
Once you have located your game, click on it and scroll down until you find the "Download" or "Direct Download Links" section and download it.
The downloaded file will be in ZIP format, which contains the ISO in different parts in other files. Don't worry about that, just extract one of them and your ISO file will be generated with your game.
Open the PPSSPP and locate the path where your ISO is and play!
Doubts questions?
I hope I have helped you and I hope you are done with the post. If you don't understand something, contact our team using the floating chat (located in the lower right part of your screen) to leave us your question.
You can see our most recent posts on our page start from the blog. Like us on our Facebook page so you don't miss any news.
GOOD MORNING AND GREETINGS FROM OUR TEAM!