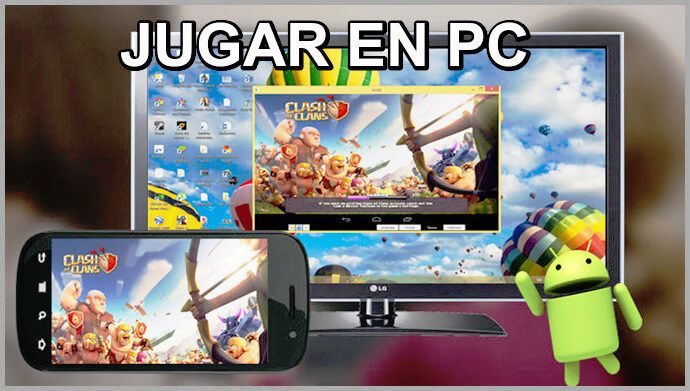 Surely you have always wanted to be able to access your Android games on your PC; without a doubt, more comfortable and with a much better view. Well, today you are in luck, we will present you some interesting information about how to play android games on pc. ENTERS!
WE START:
Welcome once again to our blog.
Today we are back with an interesting post for those fans of video games; those who, regardless of the platform, play everything. For this reason, this information is inclined to find out what are the alternatives to have access to Android games and to be able to run them on your computers or PC's.
At the outset we must mention that, there is no way you can play Android games on PC without using programs or without emulators; therefore, it is necessary to have an android emulator that has the ability to run any android game.
The second, it is important to have some minimum system requirements so that they can run, especially those very heavy. It is recommended that you have a CPU with at least two cores and 4GB RAM so that the emulator works smoothly.
In this case we will mention some of the best Android emulators for PC, so you can download and install games on your computer. Let us begin!
What is an Android emulator?
Before entering the matter, it is important that you are clear that a android emulator is a program that allows you to use Google Play apps on a computer, regardless of the version of Windows you use.
So, your computer will become a device where you can enjoy endless video games and applications of all kinds.
How do you use an Android emulator for PC?
The first thing you should do is download the executable file of the emulator of your choice.
Then you need to install it.
Next, create a Google Play account to view and use your apps.
Finally, you just have to download and install your favorite games and start playing.
Best emulator to play Android games on PC: Bluestacks
In this case we are going to refer to the emulator for Android: Bluestacks. This is an emulator that is available for Windows and Mac OS where you can emulate all video games what you want.
characteristics
Power all games with Android N (7.1.2) on your PC
It is the platform of Mobile Gaming fastest in the world.
Turn Android emulator into Android gaming platform.
You can use it for free, as long as you install a significant number of applications.
It has more than 300 million users.
It is a tremendously easy emulator to install. Once you follow the steps that we discussed in the previous section, that is, download the emulator and install it, then you have to open it and it will ask you to enter your Google account.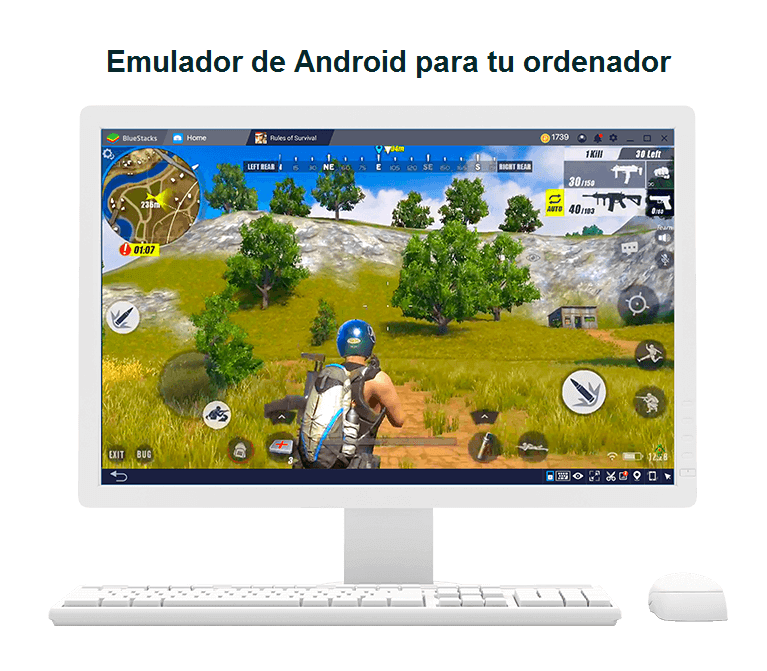 You can automatically access the Play Store. Being there, Find the game you want and click "Install", just as you would if you were from the mobile phone. When the installation is complete, you can start playing.
Observations
What can be perceived with this emulator is that the keyboard controls are very intuitive; However, despite detecting other types of controls, it is not so easy to be able to play with them.
The developers claim that the emulator works faster than a Galaxy S9 +, only certain adjustments need to be made to make it happen.
As a plus, at the beginning you can visualize it as a kind of library with all your games.
It is important to know that this program also allows you to emulate applications on your mobile device.
Other emulators to play Android games on PC
Bliss OS - Android 9.0 Pie as an operating system
It is an excellent emulator to play Android games on PC; however its installation is not very simple and requires some additional knowledge.
Characteristics
Gesture navigation.
You can configure timers so that you use your apps in a balanced way.
Artificial intelligence.
Do not disturb mode.
Andy
It is an outstanding emulator with better features than Bluestacks.
characteristics
You do not need to create a virtual machine.
No need for complex setup.
Easy to install and start to use.
You can enjoy all the games and apps on Google Play.
Memu
It is another specialized emulator for playing Android games on PC.
characteristics
All perfectly oriented to install and play.
It has no complicated settings.
You can configure the controls without any problems.
The installation of Android video games is done easily.
Koplayer
It is an emulator with which you can enjoy all Android applications and videogames with enviable fluidity and stability.
characteristics
A big plus, it doesn't require any setup.
The emulator comes with Google Play installed.
You have many possibilities when configuring controls.
Genymotion
It is an Android emulator oriented to common use. Its handling does not suppose any type of complications.
characteristics
You will be able to emulate a dozen Android devices.
Includes advanced features aimed at developers and expert users.
Nox - WhatsApp and Instagram Emulator
This emulator is not only one of the best emulators to play Android games on PC, but perfectly emulates applications such as WhatsApp and Instagram.
characteristics
Fast and Fluid to play.
It is compatible with games and applications, including the newest, most popular and heavy games
It supports keyboard, gamepad, screenshot and other actions.
ARChon - Emulator with Chrome
It allows you to run Android applications on Windows, Mac and Linux.
characteristics
Compatible with 32-bit and 64-bit Chrome.
It is compatible with Windows 10.
It works perfectly with Linux and Mac.
Why play Android games on PC?
From the computer you will have a better view, due to the size of the screen.
You don't need to have a high-end device; although it is necessary to have certain minimum requirements for the games to run well.
There is greater comfort by being able to use the keyboard and mouse as controls.
You will not be presented with any kind of interruptions, such as calls.
You won't suffer from a low battery problem, another super tedious outage.
You will be able to carry out more exact movements; so you will play with greater precision.
As you may have noticed, there are many good options when it comes to wanting play Android games on your PC. You just have to choose the ones that suit you best and start downloading whatever game or application comes your way.
---
Well, as our purpose has been fulfilled, we say goodbye. Although first we want to recommend these other super interesting posts: