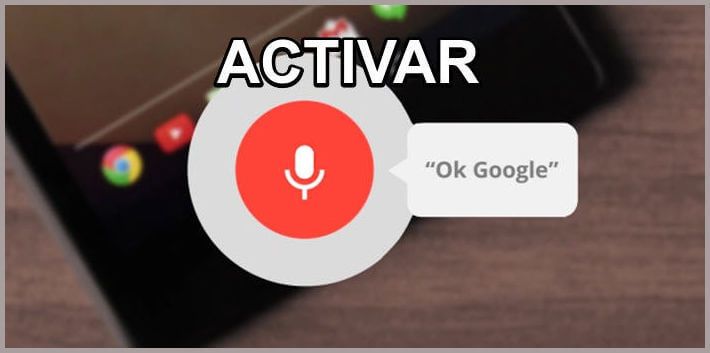 Can't set up OK Google voice assistant? In this post we will show you how activate the assistant OK Google on your phone (Samsung, Huawei and iOS) and the advantages of having a voice search tool. ENTERS!
WE START:
Welcome.
Every day we can find new interesting functionalities on our devices, which make our lives much simpler, so why waste them? Service voice commands It has become very popular in recent years and although it initially had some flaws, it has proven to be an excellent ally for users. If you don't believe me, imagine the following:
Suppose you are driving and in traffic you want to find an address or simply Google something, but your hands are busy on the wheel. You no longer have to stop, with him OK Google voice assistant, you can do it by voice.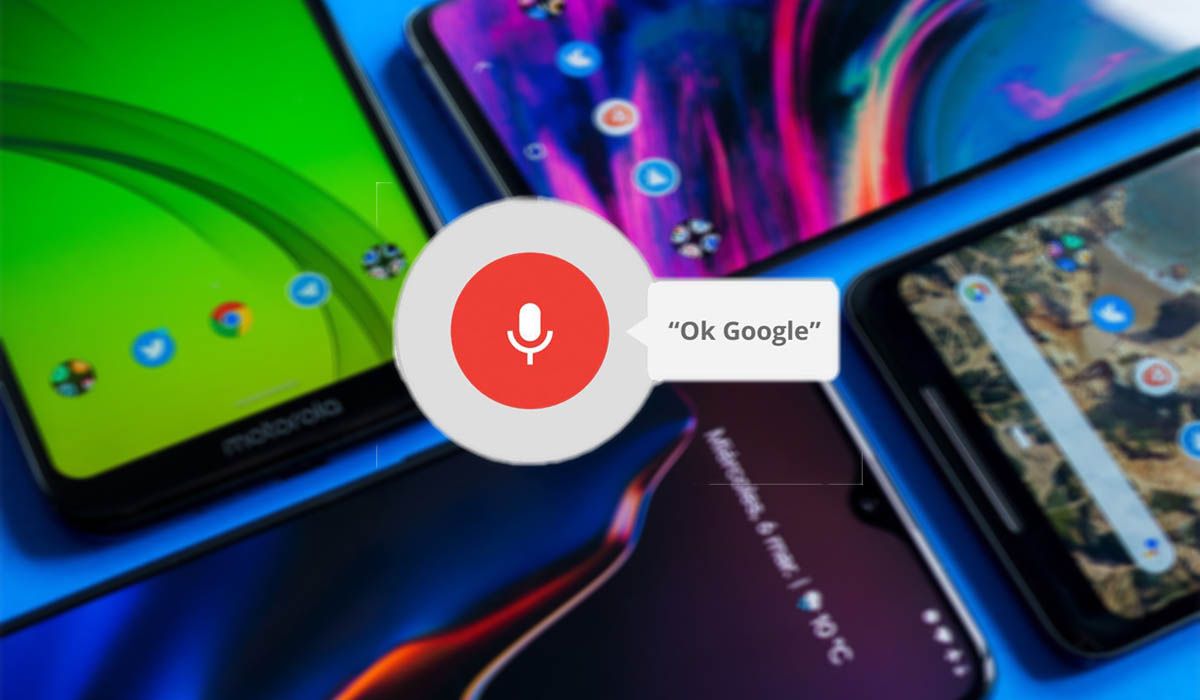 In addition, you can set alarms, make calls and even know the estimated time it takes to get to work. Incredible isn't it? Therefore, in this article we will teach you how to activate OK Google step by step on different devices, so you can make the most of your mobile.
How to activate the OK Google assistant on Android
On Huawei
Although we know that the brand has had some problems with Google, the dispute was in the past, so if you have a huawei mobile, you can continue using the google services like nothing. So, if you are thinking of taking advantage of voice commands, follow these steps and learn how to activate OK Google on Huawei in 6 simple steps.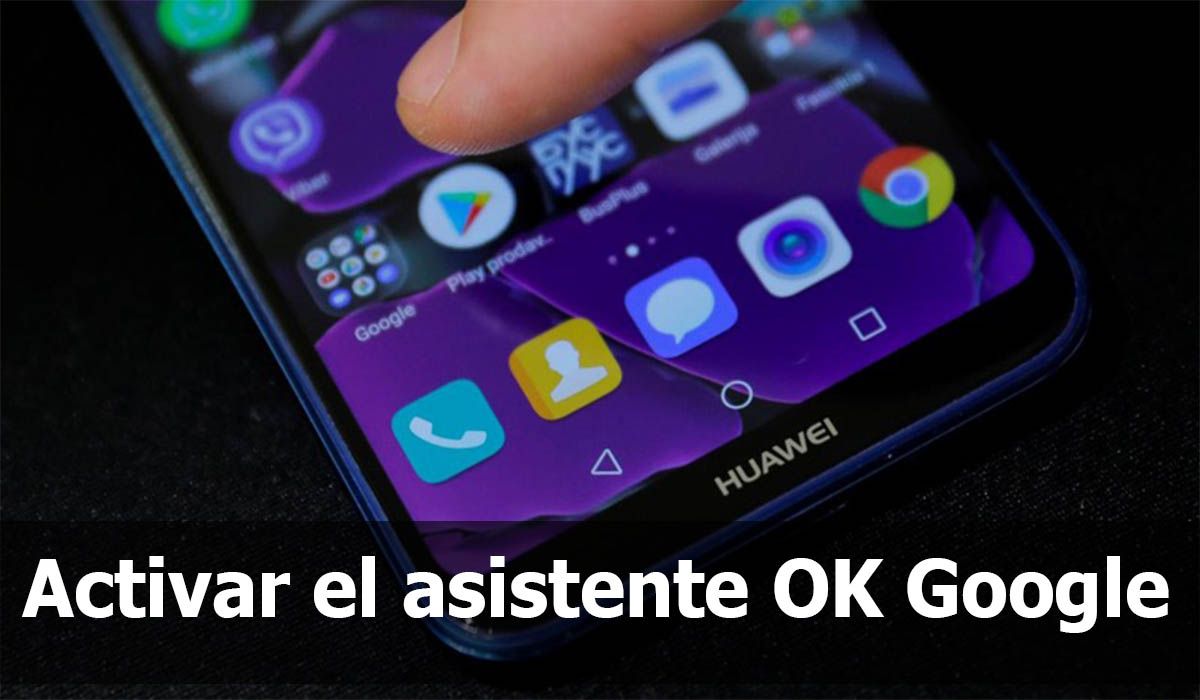 Make sure your phone is up-to-date and has theto the latest version of Google. Where can I see this? Simple! Go to Google play or Play Store and check the app updates, download it and that's it.
Enter Google and press the option "More". The three points that are in the upper right corner.
Choose "Settings".
You can configure the language in case the assistant is not in Spanish.
Then go to panel "Voice".
Select "Voice Match" and activate the assistant OK Google.
In that same section you can configure if you want the voice command to help you unlock the device, although this is not a very safe option. You can also configure different voice commands and apps associated with the OK Google assistant.
Once you activate it, you will need to repeat the command "Ok Google" 3 times for the assistant to learn to recognize your voice.
On Samsung
The process is not different from activate Ok Google for Samsung, so it does not have many complications and anyone can do it in a short time. If you have a Samsung brand device, this is what you should do:
Update the Google app from Play Store or Google Play. If it is already up to date then skip this step.
Then you open the Google app.
Select the three dots in the upper right and press "More".
Go to the settings or configuration and enter the "Voice" panel.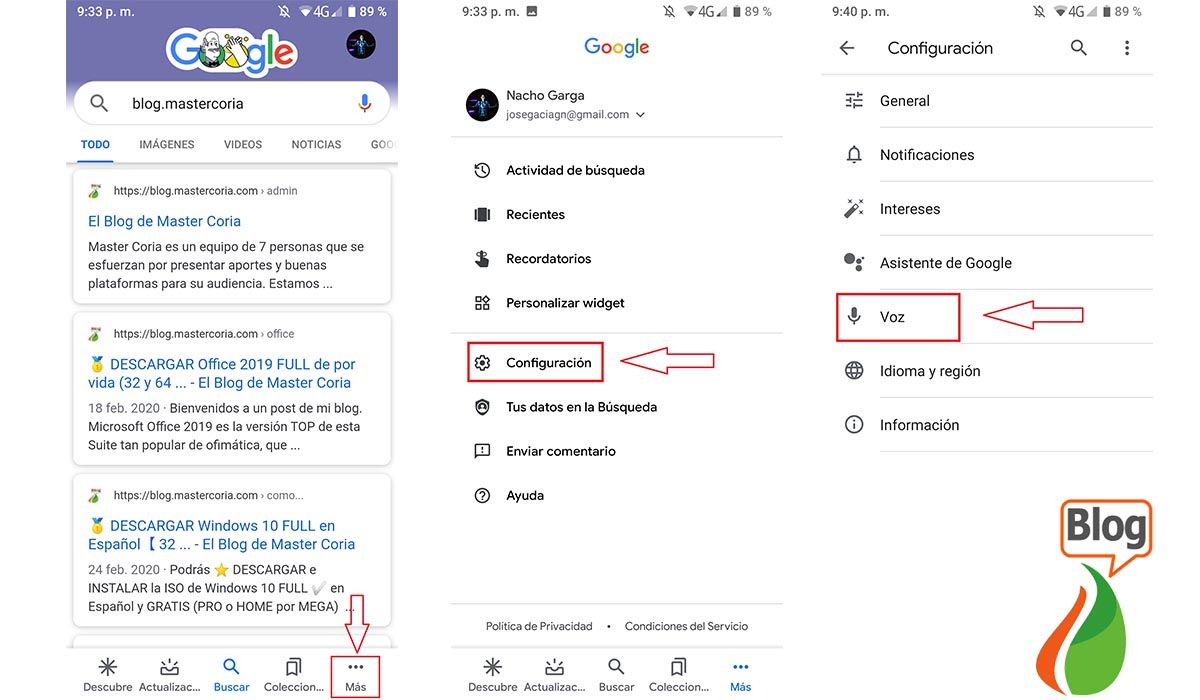 Set the language depending on your needs.
Press on "Voice Match" and activate the wizard.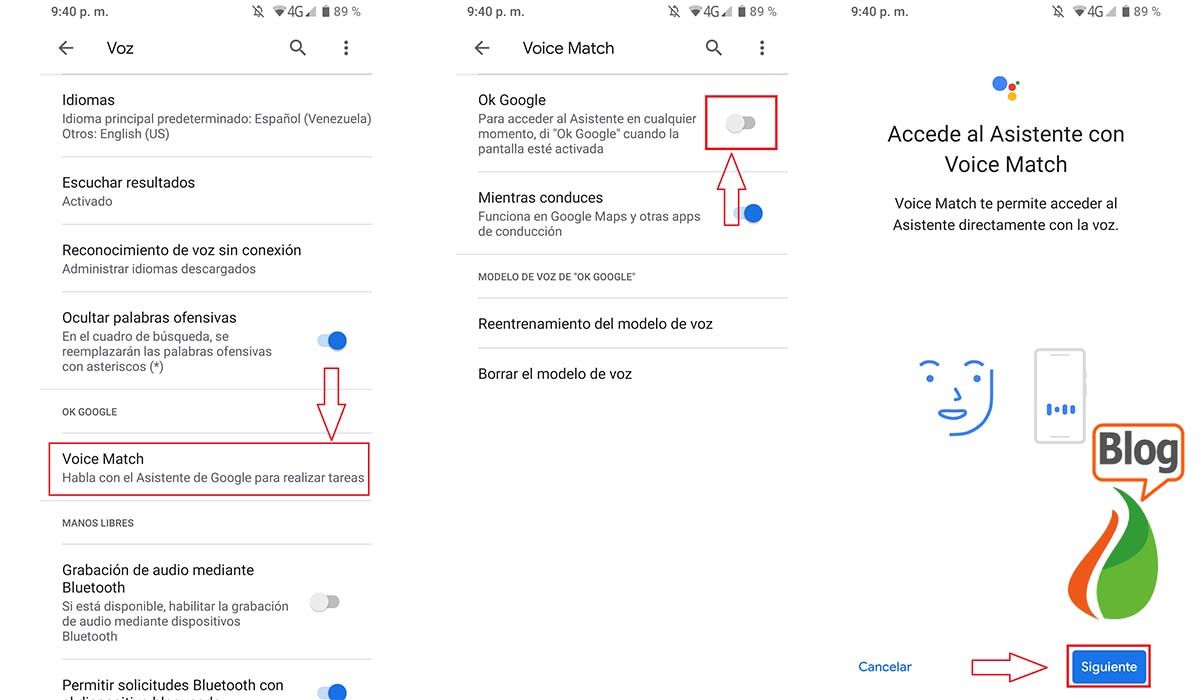 Repeat 3 times in a loud and clear voice "Ok Google" so that the assistant recognizes your voice.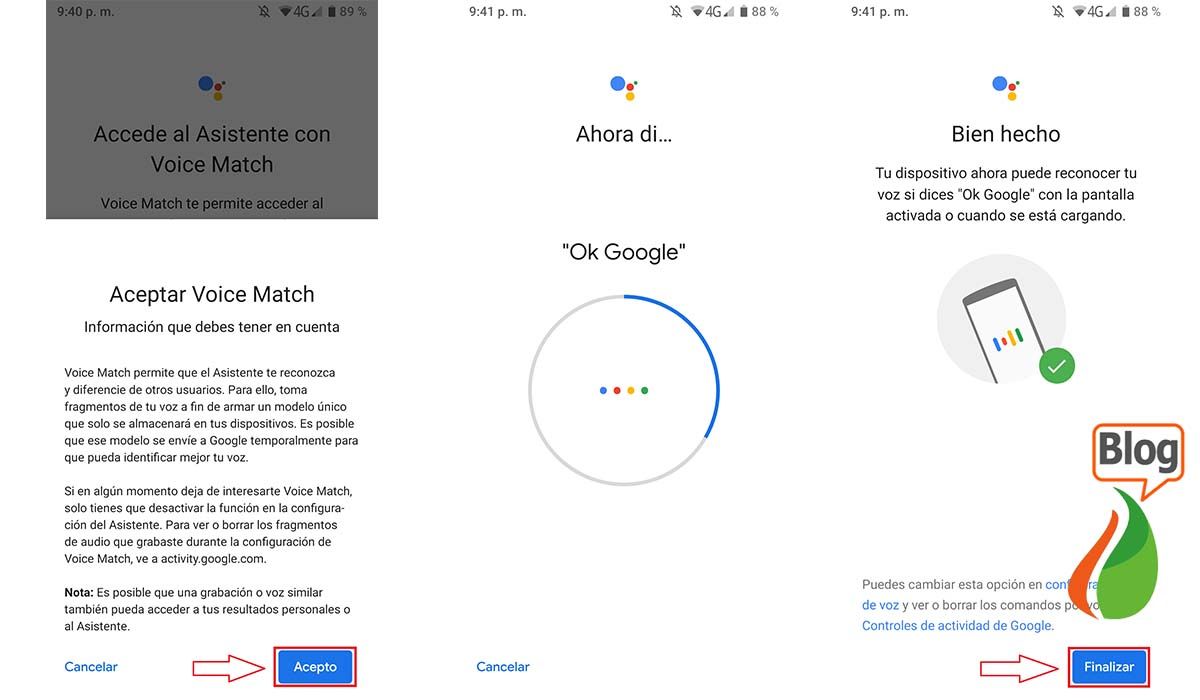 Configure the apps you want Ok Google to have access to and that's it.
How to activate the OK Google assistant on iOS?
Although in principle the Google assistant was only available for devices with Android operating system, it was soon added to iOS as well, so it is now possible to use it without problems on any device.
Now, in this case there is not much difference, so that activate Google Assistant on iOS devices, you just have to follow the following steps: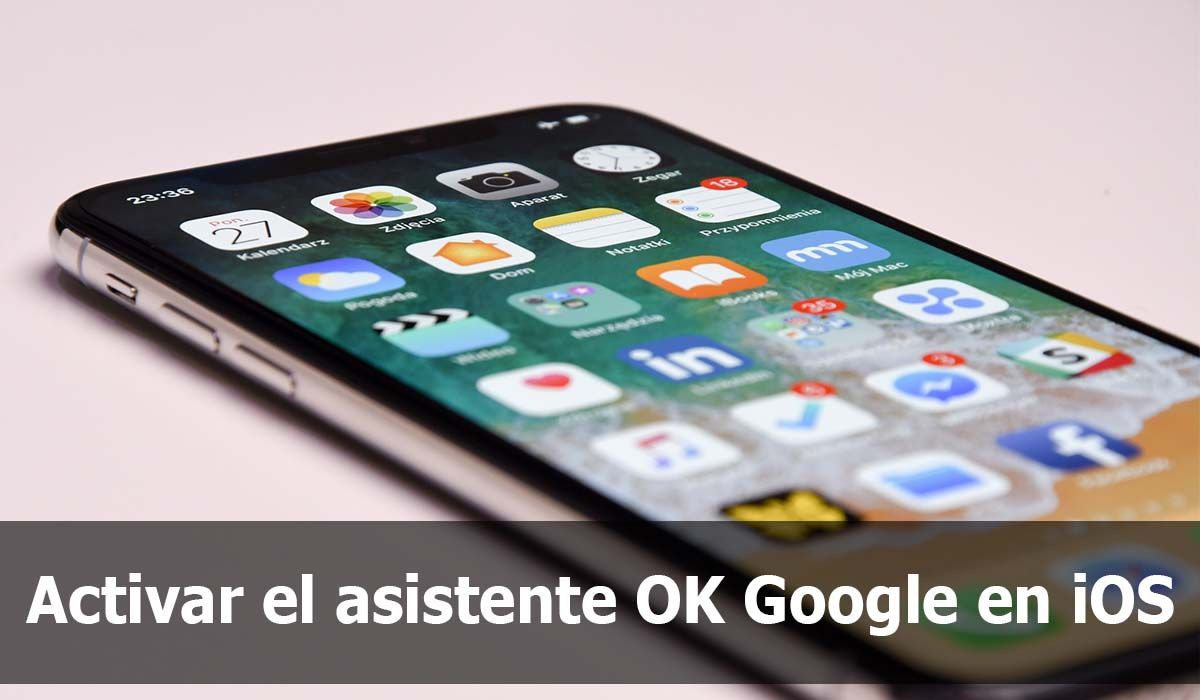 First check that the Google app is updated to its latest version. For this you can enter the App Store and see if it needs any update.
After having the latest version of google, access the app.
Locate the option "More" with the icon of three dots.
Select option "Settings".
Enter the "Voice" panel.
And check the option "Activate Ok Google".
How do you see the process is very simple and fast. In this way you can have activated in your iOS device Google commands and you will be able to use them without having to activate the option manually each time you are going to use it. You can also configure the language and the apps to which the assistant will have access, such as alarms, searches, games, agendas, notes, etc.
We recommend not activating the unlock option with voice commands as it is not a very safe option and can sometimes represent a problem.
Now that you know how activate the Ok Google assistant on various devicesLook at all the advantages you can get from this new functionality offered by the Google giant to get the most out of your phone.
Advantages of activating OK Google
The incredible thing about this assistant is that it allows you to perform many actions without touching the phone, you can configure different commands and adapt them to your needs and you can even configure so that the phone recognize at least 6 different voices, in case it is a shared device such as a tablet. As for the commands, the most used are: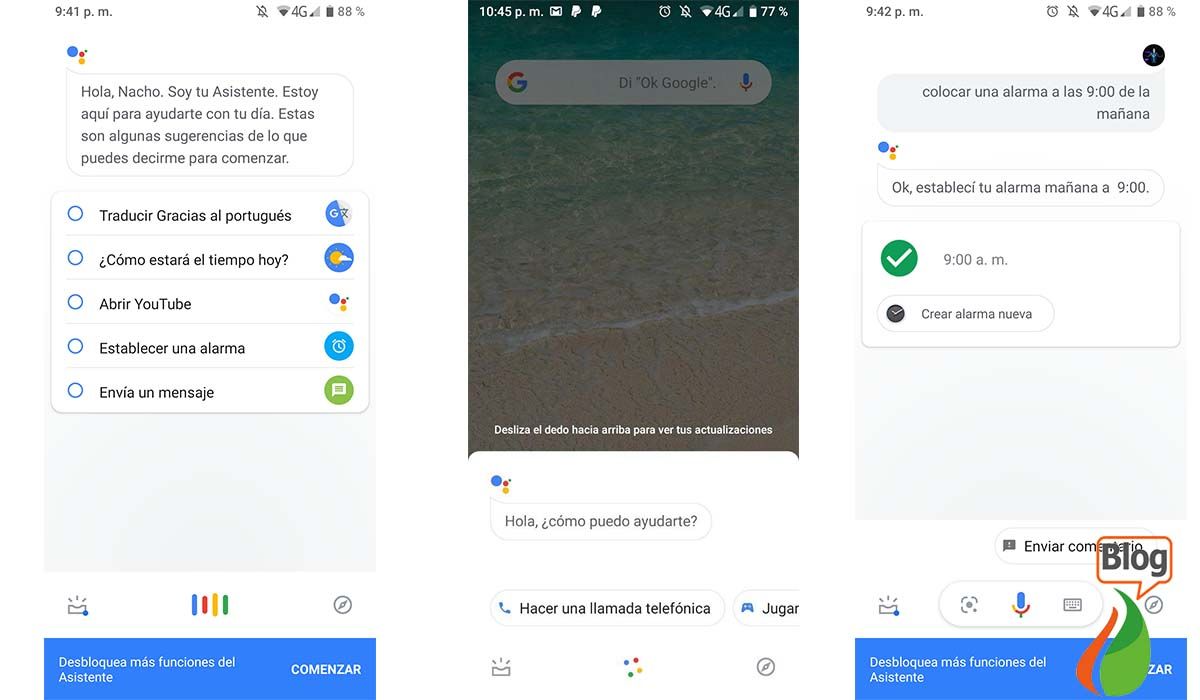 Alarms and reminders.
Agenda and notes.
Clock and timers.
Google account settings.
Calls and messages.
Navigation and maps.
Mobile phone control.
Information of any kind.
Leisure and games.
You can also use it even though don't have internet connection, so if your hands are full and you are offline, you can work with the apps and internal settings of your phone using the Ok Google Voice command.
Now that you know how to activate Ok Google voice assistant on your phone, it will be much easier search, browse and perform a large number of tasks on your phone without having to do them manually.
And as if that were not enough, this option is also available for tablets, laptops and computers desktop, so you can configure it and work without problems from the armchair at home just using the voice commands of the Google assistant.
---
Finally, we would like to mention that we have tech tutorials, tips, advice, cracks, programs ... Visit us!
Now, could you activate OK Google assistant on Samsung, Huawei and iOS successfully? Let us know your result in the comments below!
See you in another new post.